Hammock Tracks
.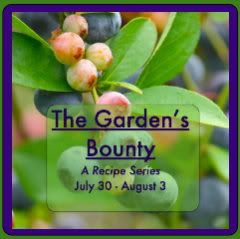 We are ending on a sweet note. Today we are sharing with you desserts that use up fresh garden goods. I chose a great summertime dessert with tangy lemons and juicy sweet strawberries. This recipe is slightly adapted from one I found at
Bakeaholic Mama
.
Strawberry Lemon Cake Bars with Lemon Glaze
Ingredients:
1 cup butter, room temperature
¾ cup sugar
1 egg
Zest of 2 lemons (2-3 tbsp)
Juice of 1½ lemons (about ¼ cup +2 tbsp), divided
2¼ cups flour
½ tsp baking powder
½ tsp salt
¾ cup fresh strawberries, diced
1 cup powdered sugar
Directions:
Preheat oven to 350°. Coat an 8x8" glass baking dish with baking spray.
In a large bowl, cream butter and sugar together. Add egg, lemon zest, and ¼ cup lemon juice. Stir until combined.
In a medium bowl, stir together the flour, baking powder, and salt. Add dry ingredients to wet ingredients and stir until just combined. Gently fold in strawberries.
Press dough into the bottom of the pan. Bake for about 35-40 minutes or until a toothpick inserted into the center comes out clean. Let cool.
For the glaze, combine the powdered sugar and remaining 2 tbsp lemon juice. Pour over cooled bars. Cut and serve.
Makes 9 bars.
These bars are so good! Lemon and strawberry go so well together and they are perfect summer flavors. The blog I got this recipe from called them "cookie bars", but they seemed more cakey to my husband and me. They are kind of crumbly, not chewy like a cookie. So I named my version "cake bars" instead. Whatever the name, you'll call them delicious!
Check out the other great summertime desserts below.