It's the seventh day of the month, and that means it's time to share with you another great Crazy Cooking Challenge. In this challenge, all the participants make and blog about the same dish each month. Each blogger is to post a unique version of whatever that month's dish is. This month's assigned dish was Ranch dressing. So we were to find a great Ranch dressing recipe, make it, and blog about it.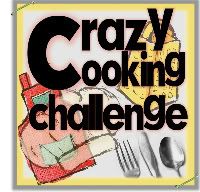 Despite learning about this challenge only a day and a half before this morning's reveal, I was excited to participate. While my family loves Ranch dressing, I had never made it from scratch before. So as soon as I heard about this challenge, I knew I wanted to make one from scratch. I did some searching around and finally found a recipe on
Tastebook
that I wanted to try. It was called Smoky Ranch Dressing, and contained smoked paprika, which is probably my favorite, and most over-used, spice. It's so different from regular (sweet) paprika. The smoked flavor is just amazing. So I couldn't wait to make a Ranch dressing with it. I changed the recipe just slightly; here's my version.
Smoky Ranch Dressing
Ingredients:
1 cup buttermilk
⅔ cup mayonnaise
⅔ cup sour cream
1 clove garlic, grated
6-8 springs fresh cilantro or parsley
1 green onion, thinly sliced
1 tsp white wine vinegar
1 tsp smoked paprika
Directions:
Put all ingredients into the blender and puree until smooth. Pour into a sealable container and refrigerate until serving. Best made a day ahead.
Makes 2 cups.
I had no idea homemade Ranch dressing was so easy to make! The recipe I used called for chopping everything up very finely and mixing by hand, but I wanted tiny flecks instead of chunks, so I went with the blender. Easy peasy. I do recommend making this ahead of time, like the day before. For one reason, it gives the flavors a chance to meld and mingle and makes it taste that much better. For another reason, it helps it set up a little bit. It turns out kind of runny after being blended, so time in the fridge will thicken it. And finally, blending it makes it quite bubbly, so it needs some time to settle and for the bubbles to go away. Since I didn't have much time since finding out about the challenge, I made mine in the morning and we had it for dinner. You can see that some of the bubbles were still hanging out at that point!
We put this dressing on salad.
And we dipped chicken fingers in it. I made my
Baked Chicken Fingers
to go with it and it was so good!
I loved, loved, loved, this dressing. Despite doubling the mayo, it still came out a bit thinner than bottled Ranch dressing, but it was so tasty that I didn't care. I doubled the smoked paprika from the original recipe (surprise, surprise!), and it was just perfect. It lends such a great smoky flavor, and just a tiny bit of heat. Enough heat that I could taste it and appreciate it, but not so much that my four-year-old wouldn't eat it. She loved this dressing. My husband wasn't a huge fan, claiming it was kind of bland, but I think he's crazy. (He always adds more salt at the table to foods I think are just perfect, so I think his palate is a little off!)
I am really glad that I got this opportunity to try homemade Ranch dressing. Now that I know how easy it is, I can't wait to try all different kinds!