It's Day Two of The Garden's Bounty recipe series hosted by Savannah of
Hammock Tracks
.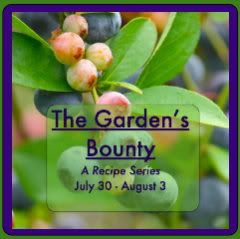 Today we are talking salads. I've had this pasta salad waiting in the wings for a while now, ever since I made it for my daughter's second birthday party in early June. I thought this would be a great time to share it with you. While it's probably not what you would first think about when someone mentions salads and garden produce, it does have fresh veggies in it and it's perfect for summertime. It's an adaptation of one I found at
The Daily Dish Recipes
.
Avocado Bacon Ranch Pasta Salad
Ingredients:
1 lb. dried tri-color spiral pasta
¾ cup mayonnaise
¾ cup ranch dressing
2 avocados, pitted and cut into 1″ pieces
2 tbsp lemon juice
2 cups cherry tomatoes, halved
½ cup kalamata olives, pitted and sliced
12 slices bacon, cooked and cut into 1″ pieces
Directions:
Boil the pasta as directed on the package. Drain and rinse with cold water to cool the pasta. Set aside.
In a small bowl, mix the mayonnaise and ranch dressing. Set aside.
In another small bowl, toss the avocado in the lemon juice.
Pour the pasta into a large serving bowl. Add the tomatoes, sliced bacon, olives, and avocado. Gently stir in the dressing. Cover and refrigerate for at least 45 minutes.
Serve cold.
Makes 12 servings.
The combination of flavors in this pasta salad is amazing. Creamy and buttery avocado, chewy and salty bacon, juicy and tart tomatoes, tangy olives, and a cool and mildly ranch dressing to tie it all together. So good! It does make a lot, so it's perfect for a crowd. It does keep pretty well, except for the avocados. I had some left over from my daughter's birthday party, so I kept snacking on it for a few days. I just ate around the avocado. :)
Check out the other great salads below and come back tomorrow for a soup that's perfect for summertime.