Today is the last day of the Fourth of July Blog Hop Series hosted by Savannah of
Hammock Tracks
.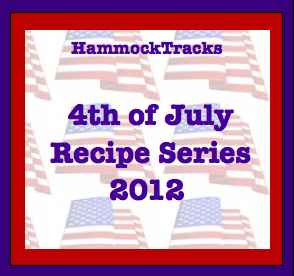 Today we are sharing beverage recipes. There is a
pin on Pinterest
with a picture of a beautifully pink beverage and the pin description calls it "The Sarasota" and gives the recipe. The problem with that pin is that the pin originator made up this drink recipe, but didn't bother to photograph it, so she posted the recipe on Pinterest with a picture of someone else's raspberry lemonade recipe that she stole. It is Pinterest users like that who cause copyright problems. :( As soon as I found out the problem with the pin, I deleted it, and recommended that others delete it as well, but I did copy the recipe onto a Word document, because it did sound really good.
So here is "The Sarasota" with a real picture to go along with it!
1 large bottle of Moscato wine
1 (12 oz.) can of raspberry lemonade concentrate
Combine all ingredients in a large pitcher. Enjoy!
Now, I have to say that I didn't make the recipe exactly as stated. I couldn't find frozen raspberry lemonade in any grocery store around me. I looked at two of them with no luck, then actually called three others, but no one carries it. I know that
Minute Maid
makes it, but they don't have a "where to buy" function on their website, so I have no idea where to buy it. We ended up getting some last minute from Schwann's, but it was a little bit different. The containers were smaller, and they didn't make as much as the regular cans do. So my version was improvised, but it was still really good. I used Moscato, and a word of warning: it is very sweet. But I love sweet fruity drinks, so I loved it. If you don't like your drinks super sweet, try using a drier white wine instead of the Moscato.