It's Crazy Cooking Challenge Day! In this challenge, all the participants make and blog about the same dish each month. Each blogger is to post a unique version of whatever that month's dish is. This month's assigned dish was fried chicken. So we were to find a great fried chicken recipe, make it, and blog about it.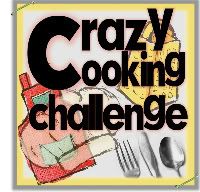 This was an interesting one for me, because while I absolutely love fried chicken, I had never made it before. I am not a fan of frying things, so I only eat fried chicken when we're out, but even rarely then. I was quite intimidated by the thought of making it myself. I was having trouble finding a recipe that I liked from a blog, but then our hostess Tina announced that we could get a recipe from anywhere. We are no longer limited to recipes from other blogs. That helped a lot in this challenge.
I spent a lot of time researching fried chicken recipes. I had trouble finding the perfect one. I knew I wanted to pan fry it, not deep fry. And I wanted a simple flour coating, and I couldn't do a traditional buttermilk marinade because my little one is allergic to dairy. Usually, for this challenge, I try to find a really unique version of whatever that month's assigned dish is. But this month, since I had never made fried chicken before, I just decided to go with the traditional. Nothing unique or fancy; just good plain fried chicken. I didn't end up choosing a specific recipe to try; I had read enough recipes in doing my research, that I just went into the kitchen and winged it. The results were better than I had imagined. I made really good fried chicken!
Pan Fried Chicken and Country Gravy
Ingredients:
1¼ cups flour
1½ tsp salt
1 tsp garlic powder
1 tsp onion powder
½ tsp smoked paprika
½ tsp black pepper
3 lbs. bone-in, skin-on chicken (I did 8 legs & 2 thighs)
1½ cups Crisco
1½ cups canola oil
2 tbsp flour
2 cups milk
Salt and pepper to taste
Directions:
Combine flour, salt, garlic powder, onion powder, smoked paprika, and black pepper in a large resealable plastic bag or large bowl with a lid. Add chicken pieces, seal, and toss to coat chicken evenly. Place a cooling rack on top of a baking sheet, and arrange floured chicken pieces on the cooling rack. Place in the refrigerator for an hour. Remove from fridge.
Put Crisco and canola oil in a 12" skillet and heat to about 325°. Add half of the chicken pieces and cook until golden brown on one side, about 12-15 minutes. Carefully flip each piece over and cook another 12-15 or until internal temperature reads 180°. Remove chicken from skillet and place on a plate lined with paper towels.
Remove all but 2 tbsp of oil in the skillet. Stir in 2 tbsp flour and cook for a minute or two. Slowly whisk in the milk, and bring to a boil. When it starts to thicken, reduce heat to low. Taste for seasoning, adding salt and pepper if necessary. Serve with fried chicken and mashed potatoes.
Makes 4 servings.
Putting the chicken in the fridge for an hour may seem odd, but I used that technique when I made my
Crispy Baked Orange Teriyaki Wings
and they had the crispiest, yummiest golden brown skin, so I thought why not try it with fried chicken. An hour in the fridge kind of dries out the skin just a tad so that it can't get soggy at all. My fried chicken had a perfect golden brown crust that didn't have a tendency to fall off, like some do. I was very pleased with it.
This chicken made the perfect summertime meal with mashed potatoes, pan gravy, and corn. Yum!
While it turned out perfectly, I certainly won't be in any hurry to make it again soon. It was pretty labor-intensive, a mess to clean up (I was reminded of why I don't ever fry things), and the oil splattered and burned me into 2 places. But I am really glad I did it, and now I can say that I have successfully made fried chicken!
Check out all the great fried chicken recipes below and come back next month too see what kind of unique cheesecake recipe I come up with!