It's going to be a fun week here on Edesia's Notebook. I'm participating in another fun blog hop series hosted by Savannah of
Hammock Tracks
. This series is called "The Garden's Bounty" and includes a week's worth of recipes chock full of fresh garden produce.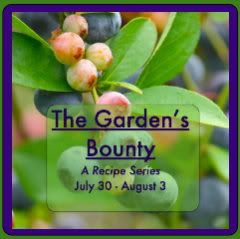 Today we are sharing with you casseroles or other hot savory dishes, tomorrow will be salads, Wednesday will be soups, Thursday will be preserves, pickles, or salsas, and on Friday we will share with you some sweet treats to end the week.
The hot savory dish I chose for today is a quiche that I created a few weeks ago. My family loves quiche (my four-year-old daughter Lena calls it "egg pizza" because it's wedge-shaped), so I make it for dinner quite often. I have already shared with you my
Broccoli Cheddar Quiche
and my
Spinach Cheese Quiche with Potato Crust
. I happened to have a handful of mushrooms and some asparagus leftover from some other meals, so I thought they would be fantastic in a quiche together. Since roasting is the only way I prepare asparagus, I tossed the mushrooms and asparagus together and roasted them for the quiche, maximizing their flavor. The resulting quiche was amazing.
Roasted Asparagus and Mushroom Quiche
Ingredients:
½ lb. fresh asparagus, trimmed
4 oz. fresh mushrooms, chopped
Olive oil
Kosher salt
6 eggs, lightly beaten
1 cup shredded Swiss cheese
½ tsp salt
9" pie crust
Directions:
Preheat oven to 400°. Line a baking sheet with foil. Cut asparagus into 1" pieces. Place asparagus and mushrooms on baking sheet and drizzle with oil. Sprinkle with salt. Roast 12 minutes, stirring halfway through. Remove from oven and let cool. Reduce oven temperature to 350°.
Combine eggs, cheese, and salt in a medium bowl. Add roasted asparagus and mushrooms. Pour into pie crust. Bake 30-40 minutes or until set.
Makes 6 servings.
This quiche did not disappoint. The roasted flavor of the veggies comes through nicely and gives the quiche an added depth of flavor. I'm not a big fan of Swiss cheese, but it is very mellow in this dish and seemed to fit perfectly.
Check out the great savory vegetable-packed recipes below, and come back tomorrow to see some great fresh-from-the-garden salads!