It's Day Three of The Garden's Bounty recipe series hosted by Savannah of
Hammock Tracks
.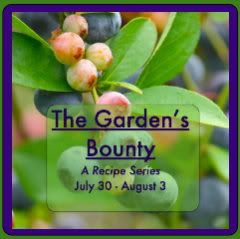 Today we are sharing soup recipes. Soup in the summer? I know. I get totally obsessed with soups in the winter, but hardly ever have them in the summer. But guess what? I have an awesome summer-friendly soup for you today. It is super light and lemony and perfect for summertime. It was March when I made this soup, but it was during that weird March heatwave, so it was like 84 degrees that day.
Have you ever heard of
Avgolemono
? Click on that link to read all about it, but the gist of it is that it's a Greek soup made up of lemon juice and eggs. Orzo is cooked in chicken broth, then a mixture of lemon juice and eggs is added to thicken the broth. Meat is optional; I chose some shredded chicken breast for mine. Topping it off with fresh dill finishes it perfectly.
Avgolemono
6 cups reduced-sodium chicken broth
½ cup orzo, dry
Salt
5 eggs
¼ cup fresh lemon juice
2 cups shredded cooked chicken
Fresh dill
Directions:
In a large saucepan, bring the broth to a boil. Add the orzo and cook until tender but still al dente, about 7 minutes. Season with the salt and reduce heat to low; let simmer.
In a medium bowl, whisk together the eggs and lemon juice until smooth. Ladle about 1 cup of the hot broth into the egg-and-lemon mixture, whisking to combine.
Add the mixture back to the simmering saucepan. Stir just until the soup becomes opaque and thickens as the eggs cook, 1 to 2 minutes. Add chicken and taste for seasoning, adding salt and pepper if necessary.
Serve warm.
Makes 4 servings.
I know that the dill is technically the only garden produce here, but if you live in Florida, you could count the lemon too. :) This soup is just so perfect for summertime that I had to share.
Be sure to check out all the other great soups below and come back on Friday when I will share with you a delicious summery dessert.