It's the seventh day of the month, and that means it's time to share with you another great Crazy Cooking Challenge. In this challenge, all the participants make and blog about the same dish each month. Each blogger is to post a unique version of whatever that month's dish is. This month's assigned dish was cheesecake. So we were to find a great cheesecake recipe, make it, and blog about it.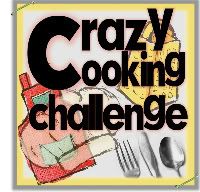 I was super excited about this challenge because I love cheesecake. It's probably my all-time favorite dessert. I love everything about it: it's rich and decadent, has a smooth and creamy consistency, and it's so versatile. It's good just plain, with berries, or with a multitude of other flavors, including chocolate, of course. You definitely feel like you've had dessert when you're done with a slice of cheesecake. It drives me nuts when people (usually skinny people), say that they don't like cheesecake because it's just too rich, or it's just too sweet. Dessert is supposed to be rich and sweet! To me, that's like saying, "I don't like that steak because it's just too tender and juicy." Yes, I hate it when people complain about dessert being too sweet. I'm just not one of those people who can plop some whipped cream on fresh berries and call it dessert. I wish I was, but nope, I'm not!
I have made a cheesecake from scratch before, but it was years ago. I think it was when my mom graduated with her bachelor's degree in 1996. Maybe. Anyway, it's been so long that I don't remember when it was. So I started looking around to see which recipe to make. There were so many that I wanted to try. My first thought was to make Martha Stewart's margarita cheesecake, but then this other one caught my eye, and there was no turning back! It's from
Taste of Home
, and it's a double-layered cheesecake. One layer is rich chocolate, and the other a creamy coffee flavor. It was topped with a chocolate ganache and garnished with chocolate-covered coffee beans. It looked like heaven on a plate! So I had to make it. It did not disappoint, and I was very pleased with how mine turned out. Here's my slight adaptation.
1½ cups Oreo cookie crumbs
3 packets Starbucks Via instant espresso
4 packages (8 oz. each) cream cheese, softened
2 cups (12 oz.) semisweet chocolate chips, melted and cooled
½ cup semisweet chocolate chips
1 (2.5 oz.) package chocolate-covered coffee beans, about 48
Coat a 9" springform pan with baking spray and place on a double thickness of heavy-duty foil (about 18" square). Securely wrap foil around pan.
In a small bowl, mix cookie crumbs and ¼ cup butter; press onto the bottom of prepared pan. In another bowl, mix the instant espresso, hot water, and cinnamon; set aside.
In a large bowl, beat the cream cheese, sugar, flour, and vanilla until smooth. Add eggs; beat on low speed just until combined.
Divide batter in half. Stir 2 cups melted chocolate into one portion; pour over crust. Stir coffee mixture into the remaining batter; spoon over chocolate layer. Place springform pan in a large baking pan; add 1" of hot water to larger pan.
Bake for about 90 minutes or until center is just set and top appears dull. Remove springform pan from water bath; remove foil. Cool cheesecake on a wire rack for 10 minutes; loosen side from pan with a knife. Cool 1 hour longer. Refrigerate overnight.
Remove rim from pan. For glaze, in a microwave, melt remaining ½ cup chocolate chips and 3 tbsp butter; stir until smooth. Spread over cheesecake. Place coffee beans around the outside edge.
I used decaf Via for this. I'm so sensitive to caffeine that even the caffeine in the chocolate affects me, so definitely decaf for me. If you are making this for mixed company, I would suggest using decaf. Three packages of Via is a lot of coffee, so there will be tons of caffeine if you use regular.
I could go on and on about how amazing this cheesecake is, but I think I'll just let the pictures do the talking!
It was so pretty I almost didn't want to cut into it. . . .almost.
This is actually a double piece, but I wanted a substantial chunk of it to show you. The coffee beans serve a double purpose: They make it really easy to cut the cake into equal portions. I fit 48 coffee beans around the edge, so that means that you will get 16 pieces if you make a cut every 3 coffee beans. That's kind of neat!
I was wishing we had some family visiting the weekend I made this, to help us eat it. Not that we didn't want to snarf the whole thing, but you saw that ingredients list, with the FOUR packages of cream cheese in it! Thankfully, some friends of ours just came home with a new baby, and they had some family staying with them, so we were able to give away almost half of it to them. We had no problems taking care of the rest. :)
Keep this recipe in mind the next time you want to wow some people with a great cheesecake. It really was very easy to put together. And check out all the other great cheesecakes below!