Today is the first day of a fun Fourth of July Blog Hop series. I was invited by the hostess, Savannah of
Hammock Tracks
, and signed up right away. Each day has a theme, and all of the participating bloggers post a recipe with that theme. Then at the bottom of each post is a collection of thumbnail links to all of the other recipes with that theme. Today's theme is burgers, tomorrow is veggies, Friday is appetizers, Saturday is ice cream (I'm sitting out that day bc I don't have an ice cream maker), Sunday is desserts, and Monday is beverages.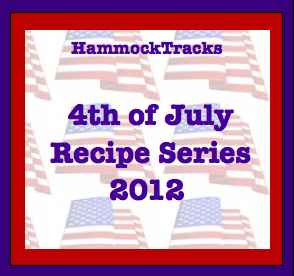 For today's burger, I chose a turkey burger seasoned with something unexpected: hummus! We LOVE hummus around here, my husband could eat a whole container in one sitting, so I knew this would be a hit. I got the burger recipe from
Fried Ice and Donut Holes
, but changed it up a bit. (Tzatziki sauce recipe is from
Cinnamon Spice and Everything Nice
.)
Hummus Turkey Burgers with Feta Tzatziki Sauce
Ingredients:
¾ cup Greek yogurt or sour cream
½ cucumber, peeled, seeded, and diced small
⅓ cup feta cheese, crumbled
1 clove garlic, grated
1 tsp dried dill
1 lb. ground turkey
¼ cup prepared hummus, plus more for topping if desired
¼ cup fresh cilantro, chopped
2 tsp ground coriander
4 hamburger buns
Lettuce
Tomato
Directions:
Combine Greek yogurt or sour cream, cucumber, feta, garlic, and dill in a small bowl. Mix well. Refrigerate until ready to be used.
In a medium bowl, combine ground turkey, ¼ cup hummus, cilantro, and coriander. Mix until just combined. Divide into 4 equal portions and form into patties.
Grill burgers over medium-high heat, about 7 minutes on each side, or until cooked through. Place burgers on buns and top with lettuce, tomato, prepared tzatziki sauce, and additional hummus, if desired.
Makes 4 servings.
Be sure to check out all the other great burger recipes below, and come back tomorrow to see a recipe for a veggie I bet you would never have thought to put on the grill!