It's Day Three of the Fourth of July Blog Hop Series hosted by Savannah of
Hammock Tracks
. Today we are sharing appetizer recipes with you.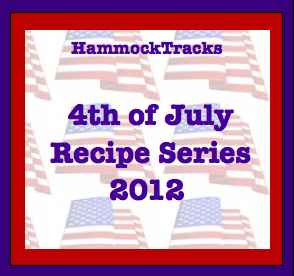 When I was growing up, we had a really nice pool. Once every summer my sister and I would have all of our friends over for a big pool party. It was so much fun. My mom would set out a bunch of snacks on our deck, and we would stand there and eat, dripping all over the place, whenever we got hungry from all the swimming. This dip is one of the things she always made for those parties. It's the easiest thing in the world: only three ingredients and takes about 22 minutes start to finish. Even less if you pop it in the microwave instead of the oven.
Chili Cheese Dip
Ingredients:
2 (8 oz.) packages cream cheese, softened
2 (15 oz.) cans chili without beans
2 cups shredded cheddar cheese
Tortilla chips or Fritos
Directions:
Preheat oven to 300°
Spread cream cheese evenly in the bottom of a 9x13" casserole dish. Spread chili over cream cheese. Top with cheddar cheese.
Warm in preheated oven for 20 minutes, or until warmed through and cheese is melted. Serve warm with tortilla chips or Fritos.
Note: This dip can also be made in the microwave or slow cooker.
This dip is so good! The combination of flavors is just perfect. So addicting; it's hard to walk away from! This will be a hit at any party you take it to.
Check out all of the other great appetizer recipes below, and come back here on Sunday for a stunning no-bake summertime dessert.