It's Day Two of the Fourth of July Blog Hop Series, hosted by Savannah of
Hammock Tracks
.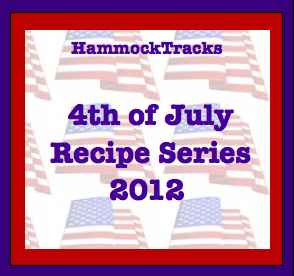 Today we are talking veggies. I love finding ways to grill veggies in the summertime. It's a great way to switch things up and make veggies more interesting to your kids. I saw this recipe for
grilled Brussels sprouts
and couldn't wait to try it. My family likes Brussels sprouts, but only if they are roasted, never steamed or boiled. I was pretty sure that grilling them would be similar enough to roasting that they would like them. Then adding a ginger garlic marinade to them? Amazing.
Grilled Garlic Ginger Brussels Sprouts
1 lb. Brussels Sprouts, halved, ends trimmed, outer leaves removed
2 tbsp minced ginger root
Combine the oil, garlic, ginger, and salt in a medium bowl and whisk until combined. Set aside.
Cook the Brussels sprouts in the microwave for 2 minutes, to get them ready to grill. Toss
Brussels sprouts into marinade and let sit for 10 minutes, tossing a few times while they do.
Thread Brussels sprouts onto wooden skewers. Grill for 5-8 minutes, turning to evenly char the outsides of each sprout.
In the recipe above, I call for halving the sprouts. They were still a little bit firm on the inside, so I think halving them would cook them through better.
The flavor of these Brussels sprouts is amazing! I love ginger and garlic together, and combined with the smoky flavor of the grill, so tasty!
Check out all of the other great veggie recipes and come back tomorrow for a great no-fuss appetizer.