It's time once again for the Crazy Cooking Challenge! In this challenge, all the participants make and blog about the same dish each month. Each blogger is to scour other blogs for a unique version of whatever that month's dish is. The goal is to highlight and promote personal food blogs. This month's assigned dish was smoothies. So we were to find a unique smoothie recipe, make it, and blog about it.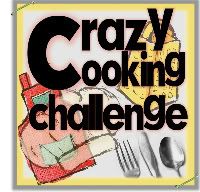 I have to be honest, I wasn't too excited when I found out this month's challenge was about smoothies. I'm not a big smoothie drinker. They just don't really do much for me. In general I don't really care for slushy icy drinks, as I get those head freezy things really bad, which is why I prefer my margaritas on the rocks. :) Anyway, I didn't have any smoothie recipes bookmarked, so I had to go searching for one. Somewhere I was reminded of that dessert, Peach Melba, and I got to wondering if there was a peach melba smoothie recipe out there. There is! On the blog,
Cooking with the Camp Twins
. Linda posted this smoothie recipe back in 2010 and talked about how she enjoyed the real deal Peach Melba dessert when visiting France years ago. She mentioned that she had intentions of posting the dessert recipe as well in the near future. I clicked on the blog's home page to see if she and her sister were still blogging, and they are. And guess what recipe had just been posted a day prior? The
Peach Melba dessert
recipe! I'm kind of going off on a tangent here, but I thought that was quite a coincidence, and took it as a sign that this was the smoothie for me!
In a blender, puree the raspberries until well blended. Set a sieve on top of a medium bowl and drain the puree into the bowl. You will need to press the juice through the sieve. Stir the sugar into the puree. Set aside.
Rinse out the blender and add the frozen peaches, sugar, almond extract, and milk. Process until well blended.
Using two large stemmed wine glasses or parfait glasses fill ⅓ full with peach smoothie. Drizzle with two tablespoons of the raspberry puree. Repeat with a second layering and then a final layer of peach smoothie.
Swirl slightly with a knife. Add a straw and serve.
I think it is the prettiest smoothie I have ever had. I love the contrast of colors. After I took pictures, I gave some to my kids and my husband and we all stirred them up completely. I liked it that way because I found the peach part to be kind of bland. I think if I were to make this again (and I might because I have extra peaches and we didn't use all the raspberry puree), I might sub orange juice for some of the milk in the peach part. I think orange juice will give a punch of flavor that the milk can't do. Also, I used vanilla soymilk, so that added even more sweetness, so a little hint of tartness would compliment it well.
I'm glad that I stepped out of my comfort zone and made something I wouldn't normally make. After seeing how much my girls enjoyed these smoothies, I will have to make them more often. They can be picky about their fruit (I have a bag of apricots in the fridge that they rejected for being too sour), so smoothies would be a good way to get around that.
Nicole from
Daily Dish Recipes
, and fellow CCCer, chose to make this recipe when she was assigned my blog for the Secret Recipe Club in August 2012. Click on the button below to check out her post!