It's a busy day for this blogger! Two of my monthly blog challenges, The Secret Recipe Club and The Crazy Cooking Challenge, are posting on the same day at the same time. This post is for the Crazy Cooking Challenge,
click here for my Secret Recipe Club post: Honey Mustard Roasted Salmon, Potatoes, and Mushrooms
.
It's time once again for the Crazy Cooking Challenge! In this challenge, all the participants make and blog about the same dish each month. Each blogger is to scour other blogs for a unique version of whatever that month's dish is. The goal is to highlight and promote personal food blogs. This month's assigned dish was grilled cheese sandwiches. So we were to find a unique grilled cheese sandwich recipe, make it, and blog about it.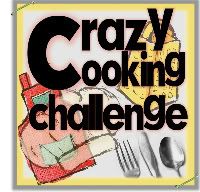 The timing was awesome for this challenge. April was National Grilled Cheese Month, so grilled cheese recipes were EVERYWHERE. This was a good thing, but it made it really hard to decide which to choose! My head was spinning with all the possibilities. I saw tons of grilled cheese recipes that looked amazing, and I probably bookmarked 5 that I JUST HAD TO MAKE. While I saw recipes on several different blogs that caught my eye, one blog in particular had me drooling every day. Suzanna at
Galley Kitchen
posted a unique grilled cheese recipe EVERY SINGLE DAY in April. Yep, she now has 30 awesome grilled cheese recipes on her blog that you must go check out! While I still have several of them bookmarked to try in the future, one of hers really grabbed me and I knew that it was THE ONE. Her
Roast Beef and Blue Cheese Grilled Cheese Sandwich
sounded amazing to me. It contains all the flavors of a steakhouse dinner: hearty beef, tangy blue cheese, and even the creamed spinach side dish! It sounded incredible and I couldn't wait to make it. I changed her recipe only very slightly; here's my adaptation.
Smoky Steakhouse Grilled Cheese Sandwiches
Ingredients:
1 tsp olive oil
2 cups fresh baby spinach, packed
2 tbsp smoked bleu cheese crumbles
2 tbsp cream cheese, softened
4 slices Texas toast
8 slices very thinly sliced deli roast beef
Butter
Instructions:
Heat the olive oil in a skillet. Add spinach and sauté until wilted. Remove spinach to a paper towel to remove excess moisture. Wipe out skillet with a paper towel.
In a small bowl, combine the cream cheese and blue cheese. Mix well. Spread the mixture on all 4 slices of bread. Top two slices of bread with the roast beef and the other two with the spinach.
Close it up and butter the outsides of the bread.
Griddle on high heat until the cheese is melted and the bread is golden brown.
Makes 2 servings.
I used Texas toast instead of regular bread because I love how hearty it is. It can really stand up to the bold flavors in this sandwich. I also sauteed my spinach instead of putting it in the sandwich raw. The only other thing I changed was that I used a smoked bleu cheese. I didn't even realize smoked bleu cheese existed, but when I went shopping for bleu cheese, I saw it and couldn't NOT try it. I love smoked gouda and other smoked cheeses, so I thought it sounded fabulous. It was AMAZING in this sandwich. The smoked flavor goes so well with the beef and the spinach; it's just incredible.
This is a very messy sandwich, but after one bite, you are not going to care one bit!
Thank you, Suzanna, for all of your awesome grilled cheese sandwich recipes, but especially this one!