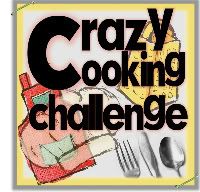 Yes, I have joined yet another blogging challenge. When I was in school, I hated homework, but homework for a food blog is really fun! This one is the Crazy Cooking Challenge. In this challenge, all the participants make and blog about the same dish each month. Each blogger is to scour other blogs for the "ultimate" version of whatever that month's dish is. The goal is to highlight and promote personal food blogs.
This month's assigned dish was chocolate chip cookies. So we were to find the "ultimate chocolate chip cookie" recipe, make it, and blog about it. I immediately went to my Google reader and did a search for chocolate chip cookies. I came across several that looked promising, but then when I saw this one, I knew immediately that this was it. I chose a recipe from the blog
Yammie's Noshery
. Yammie is a fairly new blogger, but her blog is fantastic and her pictures are gorgeous. She has some really tasty recipes posted, so go check her out! I made her
Hazelnut Mocha Crunch Cookies
for this challenge, and let me tell you, they did not disappoint! They are double chocolate chip cookies (meaning chocolate cookies with chocolate chips) packed with Nutella, instant coffee, honey, and hazelnuts. Yum! I didn't change anything about Yammie's recipe, except that I altered the name just slightly (since everyone is crazy for Nutella these days, I thought that should be in the title).
Hazelnut Mocha Nutella Cookies
Ingredients:
1 (13 oz.) jar Nutella
½ cup butter, softened
1 cup brown sugar
¼ cup honey
1 tbsp vanilla
5 packets Via instant coffee
1 egg
1⅔ cup flour
¾ tsp baking soda
¾ tsp salt
½ tsp cinnamon
1 cup hazelnuts, coarsely chopped
1 cup milk chocolate chunks
Directions:
Preheat the oven to 375º.
Cream ¾ cup Nutella, butter, and brown sugar for about five minutes. Combine the honey and vanilla in a small bowl and microwave for about 30 seconds. Add the instant coffee and stir until coffee dissolves. Add coffee mixture and the egg to the Nutella mixture and beat until well combined.
In another bowl, mix together the flour, soda, salt, and cinnamon. Add to the wet ingredients and beat until combined. Stir in the hazelnuts and chocolate chunks.
Scoop by about 2 tbsp scoops on a cookie sheet. Leave plenty of room in between as they will flatten as they bake. Bake for about 12-15 minutes or until desired doneness is reached.
Warm the rest of the Nutella that's left in the jar (if you haven't eaten it all by now) and drizzle it over the cookies.
Makes about 2 dozen.
Wow, are these cookies good! Now, in the interest of full disclosure, I should tell you that the first batch of these cookies I made was a flop. But it was 100% cook's error: I kinda sorta forgot to put sugar in them! Yeah, oops! Now, they weren't a total loss; they were still edible because the Nutella and honey did add some sweetness. The only problem was that without the sugar they were too salty and the coffee was too strong. So I made them again (luckily Nutella was on sale that week so I had bought 2 jars) and this time I remembered to add the sugar (it helped that my husband yelled out "Don't forget the sugar!" about every 5 minutes from the living room while I was in the kitchen!). It's amazing what a cup of sugar will do for cookies! They turned out perfectly that time.
Keep in mind that these cookies will spread a lot during baking. The first time I tried fitting 9 on my baking sheet and they all merged together into one large cookie! The next time I did 6 and that worked out well.
I definitely think that these are the "ultimate" chocolate chip cookies. If you think so too, vote for them in the blog hop below!
Come back on the 7th next month to see my version of the "ultimate" mashed potatoes!
Pin It