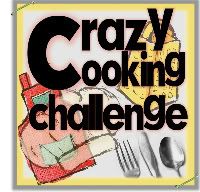 It's time once again for the Crazy Cooking Challenge! In this challenge, all the participants make and blog about the same dish each month. Each blogger is to scour other blogs for the "ultimate" version of whatever that month's dish is. The goal is to highlight and promote personal food blogs. This month's assigned dish was chicken noodle soup. So we were to find the "ultimate chicken noodle soup" recipe, make it, and blog about it.
I found a recipe on
Gina's Skinnytaste
for
Leftover Turkey Noodle Soup
. Even though her recipe called for turkey, I really liked the simplicity of it and it sounded just like what I had in mind. So I started with that, and changed the turkey to chicken. I felt like mixing things up a bit, so I made mini chicken meatballs instead of chunks of chicken breast. I made mini meatballs for a soup I created last month, and they were so darn cute, I just had to make them again! The only other thing I changed was to use spinach instead of the traditional celery. I don't really like celery, but felt the soup still needed something green. I've used spinach in soups before and I love it, so I went with that and it worked well. Here's my adaptation.
Mini Chicken Meatball Noodle Soup
Ingredients:
6 cups reduced-sodium chicken broth
1 bay leaf
1 cup carrots, sliced
¼ large onion, diced
2 cloves garlic, minced
½ lb. ground chicken
2 tbsp soft bread crumbs
½ tsp Italian seasoning (Penzey's Tuscan Sunset)
½ shallot, diced
¼ tsp salt
2 cups egg noodles
1 cup fresh spinach, torn
Directions:
Fill a large soup pot with chicken stock. Add bay leaf, carrots, onion, and garlic and simmer 10-15 minutes, or until the vegetables are soft.
Meanwhile, combine the ground chicken, bread crumbs, Italian seasoning, shallot, and salt. Form into 1 tsp sized meatballs. Add them to the soup pot one by one, so they don't stick together. Stir. Increase heat to high and add egg noodles and spinach. Cook until noodles are soft and spinach is wilted. Taste for seasoning, adding salt if necessary. Remove bay leaf.
Serve hot.
Makes 4 servings.
This soup was a big hit. My 19-month-old gobbled down every little bit! I love how simple it is and how easily and fairly quickly it can be thrown together. Admittedly, chicken noodle soup isn't my favorite soup, mostly because I find it kind of "blah", but using mini meatballs takes it up a notch in the "interesting" department.
Pin It