I tried a new burger recipe last night. I saw these burgers on
A Zesty Bite
and knew I had to make them. We had put feta on top of burgers before, but I never thought to put them inside the burger. Genius.
The picture isn't so great, because I find burgers very difficult to photograph. This is one of those who-cares-what-it-looks-like-because-it-tastes-so-awesome recipes. Although, it is kind of pretty in person. You can't go wrong with vibrant green flecks running through something.
Spinach Feta Turkey Burgers
Ingredients:
1 lb. ground turkey
1 egg
1 tsp Greek seasoning
¾ cup feta, crumbled
¼ cup frozen spinach, thawed and drained
4 hamburger buns
Preparation:
Combine all ingredients in a large bowl and thoroughly combine. Divide into four patties.
Heat a large pan over medium-high heat. Place patties in pan and cook for 5-6 minutes on each side, until cooked through. Serve on buns.
Makes 4 servings.
The burgers are really good. They are super duper moist. I topped mine with mayo and thinly sliced onion. Red onion would have been prettier, but I didn't have any.
Tzatziki sauce
would be really good on these burgers, I think.
My husband said these are quite possibly the best burgers he's ever had. He loved how juicy they were.
The original recipe called for fresh spinach, and I'm sure that would be good too, but I didn't have any on hand. Frozen spinach is something I always have, so it was easy to pull it out of the freezer and use that. While I cooked these on the stovetop, I think they would be great on the grill as well. In fact, I was kind of wishing I had done them that way.
I made a special side dish to go with these burgers, but I can't tell you about it yet because it's this month's recipe for the
Secret Recipe Club
. Come back Monday morning to read all about it!
This recipe is linked up at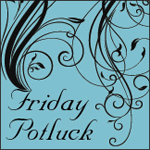 Pin It