Happy Cinco de Mayo! I can't believe it's May already. I have to apologize for being MIA around here lately. Life has just gotten crazy busy and my poor blog is the first thing to get put on the back burner. I have a lot of recipes that I can't wait to share with you, so hopefully life will ease up a little soon and I can get back to focusing more on food!
I am really glad that this month's Secret Recipe Club reveal coincided with Cinco de Mayo. I love Mexican food and, like the rest of America, treat Cinco de Mayo as a fun food holiday by making awesome Mexican feasts. Now, I know that most of what we call "Mexican" food isn't totally authentic to the Mexican culture and is more accurately considered "Tex-Mex". But it's what most Americans have come to know as Mexican food, so that's why I call it that.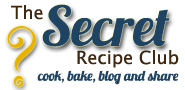 For this month's
Secret Recipe Club
reveal, I was assigned Katrina's blog,
Baking and Boys
. I was so excited to get Katrina's blog! Katrina not only has a really awesome blog filled with incredible baked goodies, but she is such a sweet, down-to-earth person too. I love how she always makes and posts two recipes from her assigned blog every month. She is a total Group A rockstar!
I had my heart set on picking a Mexican recipe before I even got my assignment. Since Katrina's blog is mostly about baking (hence the name!), there weren't a lot of Mexican recipes to choose from. But she does have some great salsa recipes, and she has a super yummy looking
Mexican Chocolate Ice Cream
. Unfortunately that was out for me as I don't have an ice cream maker and am lactose intolerant. But then I found her
Corn Fritters with Green Chile Buttermilk Dip
and her
Savory Corn and Pepper Muffins
. They both looked amazing, but I decided to go with the muffins because not only were they kind of "Mexican-ish", but they fell under the category of baking, which honors the theme of Katrina's blog.
Chipotle Cornbread Muffins with Cilantro Butter
Ingredients:
1 stick butter, softened
2 tbsp fresh cilantro, very finely minced
1 cup flour
1 cup yellow cornmeal
3 tbsp sugar
1 tbsp baking powder
1½ tsp chili powder
1 tsp salt
½ tsp baking soda
1 cup buttermilk
1 stick butter, melted and cooled
1 large egg yolk
½ cup corn kernels (fresh, frozen, or canned)
1-2 chipotle peppers, seeded, deveined and very finely minced
Directions:
Cilantro butter: Mix chopped cilantro into softened butter. Lay out a piece of plastic wrap and form the butter into a log shape on it. Fold up the sides and twist the ends to seal. Place butter in refrigerator until muffins are ready to serve.
Preheat oven to 400°. Coat a muffin tin with baking spray and set aside.
In a large mixing bowl, whisk together the flour, cornmeal, sugar, baking powder, chili powder, salt, and baking soda. In a large glass measuring cup or another bowl, whisk the buttermilk, melted butter and egg yolk together until well blended. Pour the liquid ingredients over the dry ingredients and gently fold to blend. Don't overstir; batter is supposed to be a bit lumpy. Add the corn kernels and minced chipotle and gently stir to evenly distribute. Divide the batter evenly among the muffin cups.
Bake for about 20 minutes, or until the tops are golden and a thin knife inserted into the center of the muffins comes out clean. Transfer the pan to a rack and cool for 5 minutes before carefully removing each muffin. Serve warm with cilantro butter.
Makes 12 muffins.
The cilantro butter was Katrina's genius invention. The cilantro was supposed to be chopped up and mixed into the batter, but she forgot to add it. She decided to do a cilantro butter instead; how smart! I love cilantro, so I thought it was awesome how the butter gave it a little more of a starring role.
The only thing I changed about Katrina's muffins was that I used chipotle instead of jalapeno and red bell pepper. I strongly prefer chipotle over any other pepper and I thought the smoky flavor would work really well in them. And it did. I only used one chipotle because they can really pack a punch and I wanted my kids to be able to enjoy the muffins. I really liked them this way, but if you are a hot and spicy lover, you may want to use more.
These muffins are so fantastic! They are the absolute perfect balance of sweet and savory. As a Midwesterner, I have always preferred sweet cornbread, so they are just perfect in my opinion. You Southerners might not enjoy the sweetness so much, but I think you probably could omit the sugar and they would still be good. The smokiness of the chipotle really enhances the chili powder and the corn gives a great contrast of textures.
These muffins would be really awesome with chili, but we enjoyed them alongside a chicken taco salad. My three- and six-year-old daughters loved them. They are such a great alternative to regular boring old cornbread.
Thanks for a great recipe, Katrina!
To see 41 more great Cinco de Mayo recipes, click on "Mexican" in the category list to the right. I've got you covered!
An InLinkz Link-up