It's the 7th day of the month and that means it's Crazy Cooking Challenge day. In this challenge, all the participants make and blog about the same dish each month. Each blogger is to post a unique version of whatever that month's dish is. This month's assigned dish was stuffing/dressing. So we were to find a great Thanksgiving dressing recipe, make it, and blog about it.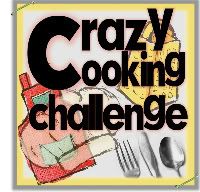 The timing is perfect for this as you are all probably starting to think about what to make for Thanksgiving dinner. If not, you should be! The big day will be here before we know it. For the past few years now, I have made my dressing (you really should call it "dressing" if it is prepared outside the turkey; "stuffing" if it is cooked inside the turkey) in the slow cooker. It is so convenient! I don't know about you, but figuring out how to get everything into the oven for the right amount of time at the right temperature is a big stress on Thanksgiving. The bird hogs the oven for so long, then it's a mad scramble to get the dressing, green bean casserole, sweet potato casserole, and some kind of bread done before the turkey gets stone cold sitting off to the side. Last year I created a brand new slow cooker dressing and shared it with you during my Thanksgiving Week. My
Slow Cooker Cherry Almond Dressing
is fantastic. But I needed a new one for this challenge, so I set out to create another slow cooker dressing recipe with a different flavor profile. How about apple and pecans? Sounds like a winning combo to me! This recipe is great because it takes a little help from the store, in the form of StoveTop dressing. Personally, I love that stuff. I love the flavor and convenience of it and I serve it with dinner throughout the year. So this is kind of a way of "dressing up" the store-bought dressing and making it more convenient by using the slow cooker.
Slow Cooker Apple Pecan Dressing
2 small Golden Delicious apples, peeled, cored, and diced
1 box StoveTop Stuffing Mix Chicken or Turkey Variety
1 (10 oz.) can cream of celery soup
Melt the butter in a skillet over medium heat and sauté the chopped onion. (If using a firmer apple than Golden Delicious, sauté it along with the onion). Sauté until onion is soft. Place onion (and any residual butter) into a 3 qt. slow cooker. Add the stuffing mix, applesauce, pecans, and cream of celery soup. Mix well. Cover and cook on low for 2-4 hours, stirring occasionally.
Note: To make this into a meal, complete the steps above as far as mixing well, but use a larger slow cooker. Lay 4 seasoned chicken breast cutlets on top of the stuffing and cook on low for 4-6 hours or until chicken is cooked through. Serve chicken with dressing.
This is some tasty dressing. All of the flavors meld together just perfectly. The apples and applesauce lend just a hint of sweetness without making the overall dish sweet. It's very much still a savory dish. I don't mind celery flavor in dressing, but I'm not a big fan of big celery chunks, so the cream of celery soup works perfectly here. Makes it moist and creamy and gives great flavor. The recipe says 2-4 hours, but mine was totally done in two, so keep your eye on it and definitely do stir it every half hour or so to keep it cooking evenly.
Like it says up there, I used Golden Delicious apples. They are soft enough that they don't need to be sauteed. But if you are using a different kind of apple that may be more firm, I would saute it with the onion to make sure it's soft enough in the finished dish.
I also put a note on there saying that you can make a meal out of this by using a larger slow cooker (I would use my 6 qt.) and laying some chicken breast cutlets on top. I tried it once by putting the chicken on the bottom, but that didn't work out so well. The chicken stuck to the bottom and fell apart. So definitely lay them on top. That way the dressing will absorb the chicken juices as the chicken cooks.
Now, this isn't the prettiest dish ever. Not as pretty as the above-mentioned cherry almond one, but you're not going to care because it's so tasty. My husband and four-year-old liked it, and my two-year-old literally couldn't get enough! She seriously had like 6 (toddler-sized) servings! She kept gobbling it all up and immediately asking for more. So I would say this was definitely a winner in my house and you can't beat how easy it is to throw together. To make things even easier on the big day, you could saute the onion the day before and stash it in the fridge. Then you could just dump everything in the slow cooker and let it go. Easy peasy!
Be sure to check out all the other great dressing or stuffing recipes below and come back next month to see if I can manage to make a decent sugar cookie. Cookies really aren't my thing, so it really will be a "challenge" for me!