It's time once again for the Crazy Cooking Challenge! In this challenge, all the participants make and blog about the same dish each month. Each blogger is to scour other blogs for a unique version of whatever that month's dish is. The goal is to highlight and promote personal food blogs. This month's assigned dish was blueberry muffins. So we were to find a unique blueberry muffin recipe, make it, and blog about it.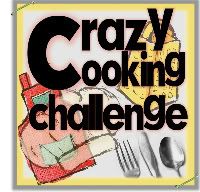 Confession time: I don't like blueberries. I know, I know, they are super healthy and stuff, but I just don't like the flavor of them. I much prefer raspberries and usually substitute them whenever a recipe calls for blueberries. So while I love making muffins, I wasn't too excited when I found out that this month's Crazy Cooking Challenge theme was blueberry muffins. I started scouring blogs for a recipe that sounded fun and unique. What's the best thing to do when you have to bake something you're not crazy about? Add chocolate to it, of course! I got to thinking about how blueberries are good for you because they have a lot of antioxidants and that dark chocolate also has lots of antioxidants, so why not put them together? I searched for a blueberry chocolate chip muffin recipe and found one over at
Cupcake Muffin
. She actually used blueberries, regular chocolate chips, and white chocolate chips. I left out the white chocolate chips so I could add more dark chocolate ones! I used
Nestle Dark Chocolate Morsels
and they were perfect. I thought the tops needed something, so I threw together a chocolate streusel. The streusel really makes the muffins, in my opinion. Here's the recipe.
Dark Chocolate Chip Blueberry Muffins with Chocolate Streusel
½ cup blueberries, fresh or frozen
½ cup dark chocolate morsels
Preheat oven to 375° and coat a muffin tin with baking spray.
In a medium bowl, combine the 1½ cups flour, baking soda, baking powder, cinnamon, and salt. Set aside.
In a large bowl, combine the ⅓ cup sugar, brown sugar, eggs, milk, oil, and vanilla. Carefully stir the dry ingredients into the wet ingredients, stirring until just barely combined. Batter will be lumpy.
If you're using frozen blueberries, toss them in about 1 tbsp flour. Pour the blueberries and dark chocolate chips into the batter and fold in gently.
For the streusel, combine the ¼ cup sugar, ¼ cup flour, and cocoa powder in a small bowl. Cut up the butter and place it in the bowl. Using a pastry blender or fork, work the butter into the cocoa mixture until it is crumbly.
Divide batter between muffin cups. Top each muffin with a generous amount of streusel. Bake 20-22 minutes or until a toothpick inserted near the center comes out clean. Let cool before removing from muffin tin.
I can honestly say that these are the best blueberry muffins I have ever had! The chocolate morsels really do make you forget the fact that you are also eating blueberries. :)