It's time once again for the Crazy Cooking Challenge! In this challenge, all the participants make and blog about the same dish each month. Each blogger is to scour other blogs for a unique version of whatever that month's dish is. The goal is to highlight and promote personal food blogs. This month's assigned dish was spaghetti and red sauce. So we were to find a unique spaghetti recipe, make it, and blog about it.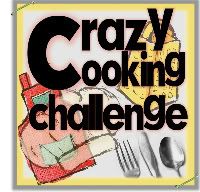 This challenge gave me an opportunity to try something I had been wanting to for a while now. I saw a recipe for
Lentil Spaghetti Sauce
and put it on my "must make" list. We are not vegetarian, but try to eat meatless one night a week. I get bored easily, so I'm always on the lookout for interesting and different meatless main dishes. I made
Lentil Tacos
once, and my meat-loving husband raved about them, saying he loved them just as much, if not more, than their ground beef counterpart. So I figured the lentil spaghetti sauce would be just as successful. I was going to make that for this challenge, but then I was sidetracked by another recipe in the same category (actually on the
same board in my Pinterest account
). Similar idea, but with meatless meatballs instead of a meaty sauce. The balls are made of chickpeas (aka garbanzo beans), and are like an Italian version of falafel. My husband loves falafel, so I was sure it was going to be a hit. The original recipe is from
Budget Bytes
. Here's my version.
Chickpea "Meat"balls and Marinara
Ingredients:
2 (15 oz.) cans chickpeas, drained
1 shallot, minced
2 cloves garlic, grated
½ tsp dried basil
½ tsp dried oregano
½ tsp salt
1 large egg
¼ cup bread crumbs
¼ cup olive oil
1 medium onion, chopped
2 (6 oz.) cans tomato paste
2 (15 oz.) cans diced tomatoes
1 tsp dried basil
1 tsp dried oregano
2 tsp brown sugar
1½ cups water
1 tsp salt, or to taste
6 servings hot cooked spaghetti
Fresh basil, for garnish
Directions:
Preheat oven to 350°.
Place chickpeas in a food processor. Pulse until it forms a rough paste. Transfer to a bowl and addso add the shallot, garlic, basil, oregano, salt, egg, bread crumbs, and 2 tbsp olive oil. Mix until thoroughly combined. Measure out one tablespoon portions and roll them into a ball. Continue until all of the mixture has been made into balls.
Place balls on a baking sheet. Place in oven and bake about 20 minutes or until cooked through.
Meanwhile, heat remaining 2 tbsp olive oil in a large skillet. Add the chopped onion and cook until the onions have softened. Add the tomato paste, diced tomatoes, basil, oregano, brown sugar, and water. Stir the mixture until it is thoroughly combined. Allow the mixture to simmer for about 5-10 minutes. Taste and add salt as needed.
Serve the chickpea balls over spaghetti with the sauce spooned over top. Garnish with fresh basil, if desired.
Makes 6 servings, 6 chickpea balls each.
I changed a few things. First, I changed up the ingredients in the balls a little bit. I swapped out fresh parsley for dried basil and oregano. We're not parsley fans. I also omitted the Parmesan because my daughter is allergic to dairy. I also added olive oil and decreased the bread crumbs because they seemed a little dry. Secondly, I baked the balls instead of pan frying them. I ALWAYS bake meatballs. It's so much easier and they actually turn out round! When I have tried them on the stovetop in the past, they either fall apart on me or get all funky-shaped. I bake my balls on stoneware and they come out perfectly every time.
I got a little impatient rolling out the balls, so they got increasingly larger as I went. If you use the tablespoon to measure them out, you will probably get 36.
The only other major thing I changed was that I doubled the sauce recipe. I didn't when I made them, but we found that there wasn't enough sauce. I actually busted out a jar from the pantry to get us through! So I would definitely make more sauce.
Other than the sauce issue, my family really liked this dish. It's a great addition to my meatless main rotation. And it's great for families on a budget, as each can of chickpeas cost 84 cents, while a pound of ground beef is going for about $3.99 these days.
Pin It