Today I am doing my first-ever guest post. Mandy at
Mandy's Recipe Box
asked if I would be interested in doing one, so I took her up on the offer.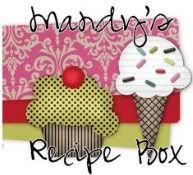 Mandy has a great blog. If you aren't familiar with it, I encourage you to stop by and check it out.
The recipe I have posted over there is Slow Cooker Sesame Orange Chicken. It's really easy and really tasty.