This post is doing double duty! This is my post for this month's Crazy Cooking Challenge, while also being the first post for my Thanksgiving Week.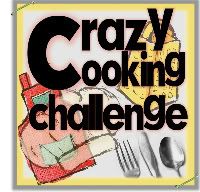 First, about the Crazy Cooking Challenge. In this challenge, all the participants make and blog about the same dish each month. Each blogger is to scour other blogs for the "ultimate" version of whatever that month's dish is. The goal is to highlight and promote personal food blogs. This month's assigned dish was mashed potatoes. So we were to find the "ultimate mashed potato" recipe, make it, and blog about it. I honestly don't remember now how I found it, but I found a recipe for Garlic Pumpkin Mashed Potatoes with Spinach on the blog Oh She Glows. I hadn't read that blog before, but it is a great vegan blog. While I am not vegan, I have been trying to reduce our meat consumption and I have other vegan blogs on my reading list, so this one looked really interesting to me.
This recipe is doubling as the first recipe of my Thanksgiving Week. Each day this week, I will be posting a recipe for a traditional Thanksgiving side dish, but with a special twist. So this recipe is for mashed potatoes, but the special twist is that they are Garlic Pumpkin Mashed Potatoes. You may not think that garlic and pumpkin go together, but you would be surprised! I was very intrigued by the idea and wasn't sure how it was going to taste, but I loved it, and so did the rest of my family. And isn't the color just gorgeous?
This is an adaption of the one on Oh She Glows, as I left the spinach out of mine and used real butter and milk instead of vegan.
Garlic Pumpkin Mashed Potatoes
Ingredients:
2½ lbs. potatoes, peeled and cubed
½ tbsp olive oil
2 cloves garlic, grated
1½ cups pumpkin puree
½ cup milk
2 tbsp butter
Salt, to taste
Directions:
Place potatoes in a large pot of cold water and bring to a boil over high heat. Boil potatoes for 18 to 22 minutes or until fork tender. Drain and place in a large bowl.
Meanwhile, heat olive oil over low heat in a skillet and sauté garlic for about 1 minute, or until fragrant.
Drain and mash potato chunks with a potato masher until desired consistency. Stir in pumpkin puree, milk, butter, and salt. Serve immediately.
Makes 5-7 servings.
These potatoes are really good! Pumpkin and potatoes go really well together, and the addition of garlic brings it to an even higher level. Don't worry about the consistency being funny; these potatoes were rich and creamy and very smooth and silky.
I wouldn't hesitate at all to make these for Thanksgiving dinner. In my opinion, they don't need gravy, and I served them without it, but if you have very traditionalist guests at your Thanksgiving table, they would taste just fine with gravy. The pale orange color and the lovely pumpkin flavor means that these potatoes will go with just about anything else you serve at your Thanksgiving meal.
I dare you to be brave this Thanksgiving and try something new! Your guests will love your creativity and I bet you will be asked to host again next year! Please vote for this dish in the Crazy Cooking Challenge linky party below. It's number 15.
Come back tomorrow for a dressing recipe that frees up your oven space, takes 5 minutes to throw together, and is simply just beautiful!
Pin It