This is a recipe I have been making for about 10 years now. I started with a recipe I saw in
Cooking Light
magazine, but I have changed little bits about almost every time I make it. I think I am finally done making changes and have settled on a recipe.
Spaghetti Pie
Ingredients:
1 tbsp olive oil
¼ large onion, diced
2 cloves garlic, minced
1 lb. lean ground beef
15 oz. tomato sauce
1 tbsp Italian seasoning (Tuscan Sunset)
1½ cups low-fat sour cream
4 oz. cream cheese, softened
½ cup green onions, sliced
6 oz. spaghetti (I use vermicelli)
Cooking spray
1½ cups cheddar cheese, shredded
Directions:
Preheat oven to 350°.
Heat oil in a large nonstick skillet over medium heat. Add onions and garlic and saute until onions begin to soften. Add ground beef and cook until browned, stirring to crumble. Drain well, and return meat to pan. Stir in tomato sauce and Italian seasoning. Bring to a boil; reduce heat, and simmer for 10 minutes.
Meanwhile, boil spaghetti according to package directions. Combine the sour cream, cream cheese, and green onions in a medium bowl and set aside.
Place the spaghetti noodles in a 2-quart casserole dish coated with cooking spray. Spread the sour cream mixture over spaghetti noodles. Top with meat mixture. Cover and bake for 25 minutes. Uncover, sprinkle with cheese, and bake an additional 5 minutes or until cheese is melted and bubbly.
Makes 8 servings.
Here are a few pics of the layering process:
First layer: cooked spaghetti. I decreased the amount of spaghetti from the original recipe because I couldn't fit it all in the pan. And it just seemed too dense.
Second layer: sour cream/cream cheese/green onion mixture. This is what separates this dish from regular spaghetti.
Third layer: meat sauce.
Fourth layer: shredded cheese. The recipe calls for cheddar, but you can use whatever you have on hand. Here I used a cheddar/Monterey Jack blend.
Fresh out of the oven. Gotta love all the melty cheesy goodness.
You won't be able to cut squares (like the first pic above) out of it when it's hot out of the oven. When it's hot, you just have to dish it out with a large spoon and pile it up on your plate. After the leftovers have been refrigerated, you can cut neat little squares out of it and warm them up.
Edit 03.15.12: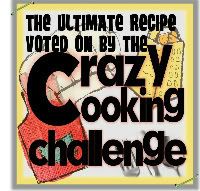 One of my fellow
Crazy Cooking Challenge
participants chose to make this recipe as her entry in the spaghetti with red sauce challenge. And guess what? She won the challenge by getting the most clicks! Check it out:
Cheese Curd in Paradise's Crazy Cooking Challenge: Spaghetti Pie
Congrats, Ashley!